GC-AMERICA CE On-Demand Webinars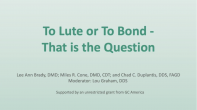 Presenter: Lou Graham, DDS; Chad Duplantis, DDS; Lee Ann Brady, DMD; Miles Cone, DMD | Provider: Dental Learning Systems, LLC
Commercial Supporter: GC America

CDE CREDITS: 3 Self Study | COST: $0.00 | Feb 26th, 2021 - Feb 28th, 2024
LEARNING OBJECTIVES:
Review the clinical criteria for each class of materials to ensure success
Determine the most appropriate cementation protocols to facilitate efficacy and long-term predictability
Discuss how dental cements have changed over the years
Play Presentation
TAKE THE QUIZ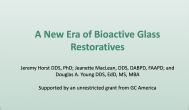 Presenter: Jeremy Horst, DDS; Jeanette MacLean, DDS; Douglas A. Young DDS, EdD, MS | Provider: Dental Learning Systems, LLC
Commercial Supporter: GC America

CDE CREDITS: 3 Self Study | COST: $0.00 | Sep 15th, 2020 - Sep 30th, 2023
LEARNING OBJECTIVES:
Explain the caries process, caries risk assessment, and treatment options (including when to treat chemically and when to treat surgically).
Propose to patients simple and effective strategies beyond brushing and flossing to prevent and control caries.
Explain clinical indications, benefits, risks, proper handling and placement techniques of Glass restoratives, SDF, SMART, Hall crowns, and Strip crowns.
Play Presentation
TAKE THE QUIZ